Description
Details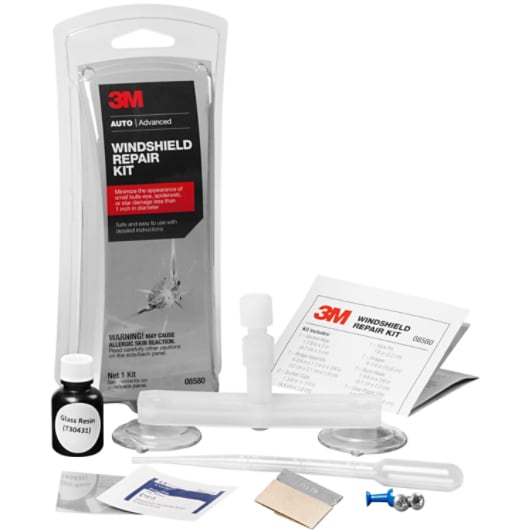 Easily Patch Windshield Chips
3M™ Windshield Repair Kit makes filling chips in glass an easy job. Using our kit when a chip first occurs is a money saver over waiting until a chip spreads into a full crack. We recommend the 3M™ Windshield Repair Kit for repairs on glass chips less than 1" in diameter. Chips in the driver's direct line of vision should be referred to a professional auto glass replacement shop. Complete step-by-step instructions make repairing glass chips an easy task.
What's in the Kit
The 3M™ Windshield Repair Kit includes (1) alcohol wipe, (1) bridge assembly, (2) suction cups, (3) Phillips head screws, (1) resin chamber, (1) resin chamber tip, (1) injector (1) injector o-ring, (1) bottle glass repair resin, (1) stick pin, (1) dropper, (1) clear plastic film, (1) scraping blade.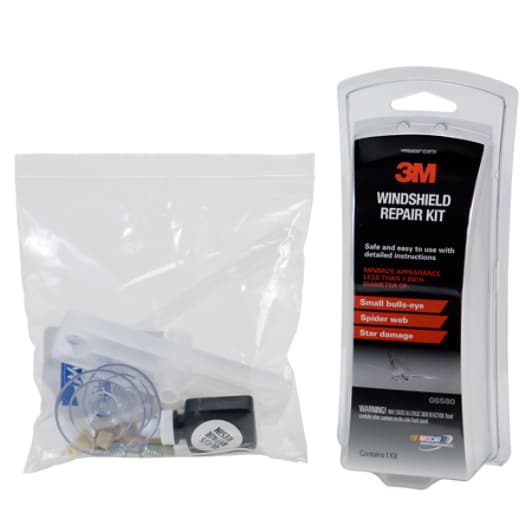 Save Money and Avoid Inconvenience
A rock kicked up from another vehicle can instantly chip your car windshield. If left unfixed, the chip can spread to a windshield crack. Fix small auto glass chips before a full crack develops. Small glass chips are repairable with the 3M™ Windshield Repair Kit. Larger windshield cracks mean the entire windshield will need replacement. Save money and the hassle of windshield replacement by filling in windshield chips with this repair kit.
Glass resin fills small bull's eyes and chips to prevent spreading
Preventative damage control can stop more extensive damage from spreading
Repair kit minimizes appearance of glass chip to make windshield look like new
Easy-to-use glass repair formula requires no special tools, mixing or heat
Step-by-step directions guide project from start to finish
Payment & Security
Your payment information is processed securely. We do not store credit card details nor have access to your credit card information.