Description
Product Details
Faster, easier scuffing action – but not coarser
Use for woodworking, metalworking, synthetic fabrication and maintenance operations
Available in three color-coded grades, grey fine grade, purple Very Fine and copper Ultra Fine
Very flexible and conformable for cleaning or fine finishing
Replaces steel wool to eliminate contamination
Can be folded, stacked or rolled
Scotch-Brite™ Multi-Flex Sheets come on a 20 foot perforated roll and works quickly and economically for sealer sanding, denibbing, defuzzing, highlighting and topcoat finishing applications.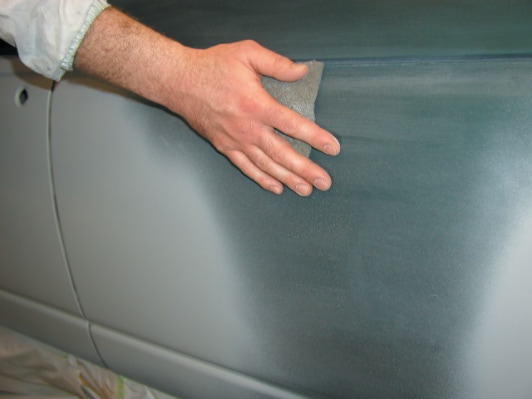 Designed for cleaning and finishing surfaces by hand
The Ultimate Choice for Surface Preparation Hand Finishing
This thin, tough, sharp-cutting non-woven abrasive roll is ultra-flexible and conformable for cleaning or fine finishing. Scotch-Brite Multi-Flex Sheet is a good replacement for steel wool and eliminates contaminants.

The ultra-fine grade silicon carbide abrasive mineral is suitable for cleaning and finishing surfaces by hand in woodworking, metalworking, synthetics fabrication, and maintenance operations.

The three grades of Scotch-Brite™ Multi-Flex Sheet offer more aggressive, but not coarser, cutting and highly conformable finishing.

Most Aggressive — High Cut for Paint Prep and Wood
Our most aggressive cutting grade is purple and is a highly conformable abrasive with high cut for paint preparation and wood finishes without dumping edges. It works great for scuffing new panels, door jambs and under bonnet areas. It is ideal for scuffing prior to primer and paint for proper mechanical adhesion, for tire clean-up and for cleaning grease, oil and rust from engine and other mechanical parts.

Less Aggressive — For Exceptional Finishes on Wood and Metal
Our grey Multi-Flex Sheets are perfect for preparing color coat and simple blending and can be used with 3M™ Prep and Blend Liquid (09308) or degreaser. Use these, as well, for light scuffing of primer and paint.

Least Aggressive — For Cleaning and Fine Finishing
Our least aggressive grade is copper and is used for water based paint systems and critical color blending. Use it for light scouring and with 3M™ Prep and Blend Liquid (09308) or degreaser.
Payment & Security
Your payment information is processed securely. We do not store credit card details nor have access to your credit card information.