Description
Details
Superior alternative to steel wool, wire brushes, sandpaper, and other nonwoven products for cleaning or finishing tasks
Suitable for use on wood, paints, metal, plastics, ceramics, porcelain, glass, rubber or composites
Reusable pad resists tearing, splintering, loading and will never rust, providing a long, useful life
Can be folded, stacked, or rolled for effective cleaning or conditioning on flat, irregular, or contoured surfaces
Non-woven web is load resistant
Our Scotch-Brite™ Durable Flex Hand Pad combines ultra flexibility with effective cutting action and precise hand control to accomplish tough cleaning jobs or produce fine finishing results.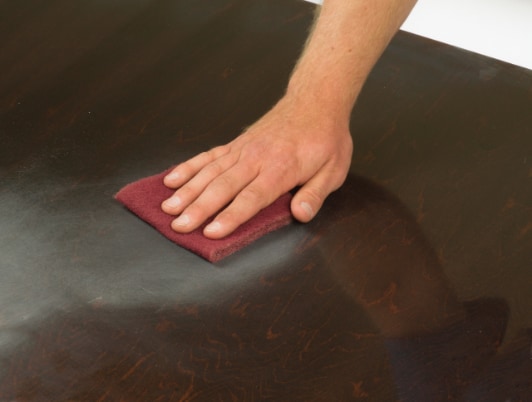 Tough non-woven nylon web specially coated to minimize loading, uniform scratch throughout life of the hand pad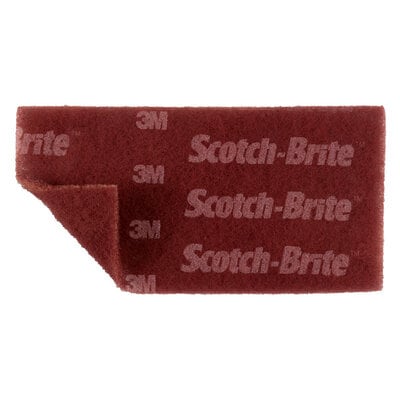 High performance pad takes less time to prep surface
Great Multipurpose Pad
The performance of Scotch-Brite™ Durable Flex Hand Pad is comparable to steel wool, but our Scotch-Brite™ pads won't shred during use, rust after use, or create fine metal splinters. The non-woven, open-web material resists loading and can be used dry, with water or some solvents, and rinsed clean for reuse. This multipurpose pad can be used by hand for precise control.
The Many Benefits of Scotch-Brite™ Abrasives
Breakthrough fiber coating technology allows Scotch-Brite™ abrasive products to cut faster and produce a more consistent scratch than competitive non-woven abrasive products, reducing the time and effort it takes to finish parts. Combining abrasives with the fibers creates an abrasive system that delivers consistent results for the life of the product. Our Scotch-Brite™ industrial abrasive products' non-woven web keeps the abrasive minerals cutting at high performance by limiting clogging of the fibers.
Payment & Security
Your payment information is processed securely. We do not store credit card details nor have access to your credit card information.